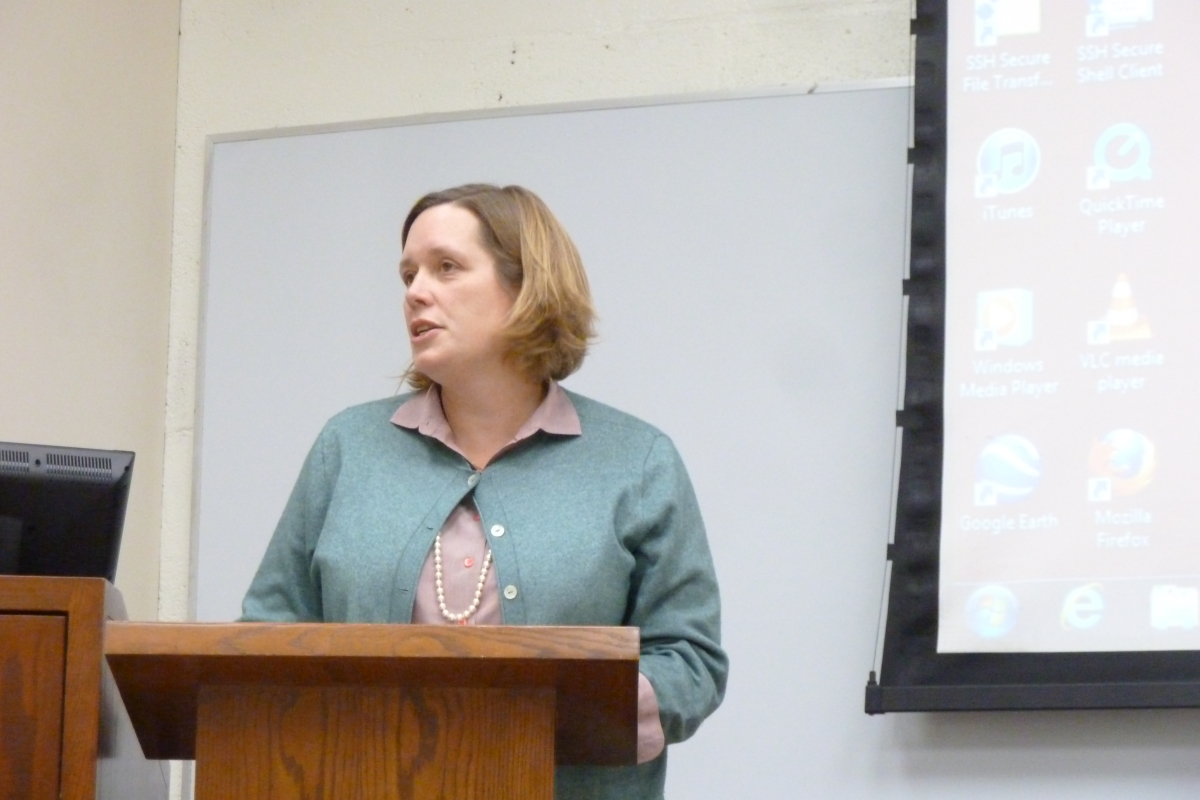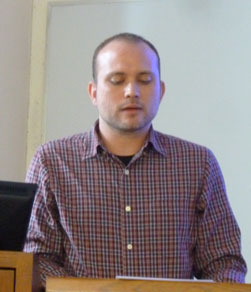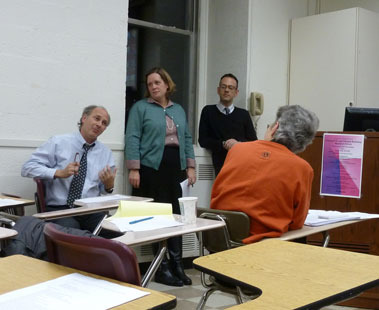 The English Department's 2012 Mullarkey Research Forum was held on 28th November. Over forty faculty from Rose Hill and Lincoln Center as well as graduate students and post-doctoral fellows attended, even though the press of events and logistics at the start of the semester pushed the Forum to a later slot than usual. It was a special pleasure that John Harrington, Dean of the Faculty of Arts and Sciences, made time to come.
Over the afternoon, the six presenters offered an extraordinarily rich and varied conspectus of work going on in the Department. Eva Badowska's "States of Exception: Politics and Privacy in Krzysztof Kieslowski's Decalogue Six" packed into a short presentation a lucidly incisive account of Kieslowski, several film clips, and a profound reading of Decalogue Six in which acutely observed detail supported luminously suggestive and ranging exposition of its themes. Anyone who hasn't seen Kieslowski would have to, having heard this.
Corey McEleney's "Nothing to Say: Pleasure at the Limits of Utility" gave us not only a new view of Thomas Nashe, the Elizabethan writer and controversialist, but a new theoretical positioning of Nashe as a limit case and key instance for thinking about the utility of the humanities, bringing a fascinating but relatively little known writer at a bound into a wider conversation.
Beth Frost's spare and compelling reading from her poem in progress, "Proxy: A Memoir," scrutinised the grip of our institutions on us, with its unflinching meditation on the modern condition being 'in hospital' (with "hospital", like "post office" in
Decalogue Six,
emerging as an institution best placed to thwart the very needs it is created to serve).
In the second half of the afternoon, Phil Sicker presented some of his new book on Joyce as "Stephen on the Strand: A Walk in the Dark with Descartes, Molyneux." Stephen's experiments with the relations of sight and touch compel him to walk with his eyes closed, but for Phil's audience this was a dazzling experience. His long and deep critical and scholarly engagement with Joyce illuminated both Joyce's preoccupations and the figure of Stephen with what seemed effortless clarity and vision.
Jordan Stein showed in a different way how much lucidity and impact a short presentation can have with his "What Makes an Archive Black?" He exposed the assumption that it is the colour of the writer that determines, so to speak, the colour of the writing as a working simplification, while offering different models of authorship and a whole world of early printing and publishing collaborations.
The presentations came to a vigorous and inspiring finish with Anne Fernald's "Women's Fiction, The New Modernisms, and Feminism". This project (on which Anne is working with some of her graduate students) aims to rehabilitate modernist women writers. Ceasing to tolerate the situation where attention to Virginia Woolf is simply assumed to cover the situation, Anne will publish a special collaborative journal issue showcasing ten women writers less well known than Woolf and will thereby complicate and re-write the accepted account of modernism.
The two chairs, Stuart Sherman and Anne Hoffmann, not only thoughtfully introduced the panellists, but led discussions in which the audience creatively ranged across the issues raised by the presentations.
To be at the Forum was to become excited about what an English Department does and is in its research, and to see an effective and creative humanities community in action. In a long and packed afternoon, the chief response of all involved seemed to be excitement and new energy. The Forum is a recommended experience for graduate and post-graduate researchers wherever they position themselves in the discipline.
The Mullarkey Research Forum is named for generous donors to Fordham University and to the Department, Thomas F.X. and Theresa Mullarkey, and was organized by the holder of the Mullarkey Chair in Literature and English Professor, Jocelyn Wogan-Browne. As with all Departmental events, the Forum was splendidly supported by the administrative staff: Ayla Syed created a handsome and striking poster for it (a copy of which was later presented to Mrs. Mullarkey) and Carole Alvino organized venue, enough seating, and sumptuous refreshments.